About PMC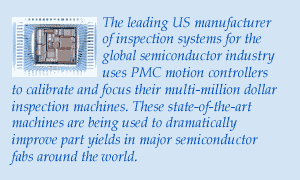 Precision MicroControl (PMC) is an industry pioneer and leading manufacturer of intelligent multi-axis motion controllers for servo and stepper motor control.
For more than 35 years, PMC has been dedicated to meeting the needs of capital equipment manufacturers, institutional researchers and large end-users in a wide range of industries. Click here to learn more about the industries and applications that we serve.
Our Mission
Our mission is to help capital equipment manufacturers build faster and more reliable, accurate and cost-effective machines by providing motion controllers, software, and engineering support offering the best quality and value in the industry.
Our People
Integrity and excellence are the cornerstones of our old-fashioned approach to business - and it shows. Our long-term customer relationships, many lasting decades, attest not only to the strength of our products, but also to the quality of our dedicated and loyal employees. We are proud of our engineers and staff who have embodied these key values. By doing so they have earned the trust and respect of customers around the world.
Our Products
In 1987, PMC developed and commercialized the first modular multi-processor based motion control architecture. Today we provide a wide range of powerful, flexible and cost-effective motion control cards, accessories, and software. Visit our Product pages to learn more about our products and technology.
Our Support
As a part of our commitment to provide our customers with superior engineering support, we ensure that nothing impedes direct communication between our customers and our highly experienced development engineers. This has allowed us to be uniquely responsive to our customers by offering them unmatched engineering expertise and quick turnaround of special requests, along with a solid commitment to always deliver more than we promise. Visit our Support pages for more information about our online support resources and technical support capabilities.
Our Customers
We've built our business and reputation on the many close and lasting relationships we've developed with customers large and small over the years. PMC customers include OEM machine builders, system integrators, institutional researchers and large end users in a wide variety of industries. To learn more about some of the PMC customers who have successfully deployed PMC motion controllers in their machines, research labs and manufacturing lines, please visit our Customers page.