Product Selection Help
PMC offers a range of economical board-level motion controllers for open-architecture PC-based control systems. The MultiFlex PCI and DCX-PCI series plug into a PCI-bus PC slot. The MultiFlex Ethernet series is a stand-alone form-factor which can communicate with a host PC via Fast Ethernet or RS-232, or it can operate entirely stand-alone.

Use the product selection tools below to help you choose a suitable PMC motion controller, or fill out an online Information Request form and we'll have an Application Engineer help you with your selection. If you can't find exactly what you're looking for, Contact us. We routinely provide fast and affordable custom solutions to our OEM customers upon request.
Product Comparison Matrix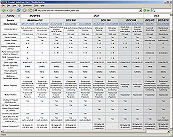 Compare PMC product features side-by-side in this comprehensive Product Selection Chart (opens in a new window). For added convenience, this chart can be sorted in three different ways:
Interactive Product Selector
Quickly Narrow Your Choices Based On Three Simple Criteria
To help narrow your search, select the required attributes in our Java-based product selector below (requires Java enabled-browser.) A list of motion controllers will appear that match your criteria. Choose a product from the list and click the "SELECT" button to get product details.