Servo Tuning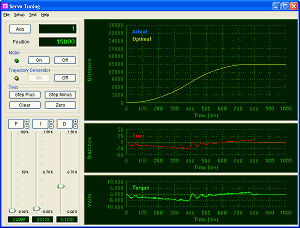 PMC's Servo Tuning program provides graphical servo tuning support for all of our motion control cards (see readme file for details). A servo tuning tutorial is inlcuded in the extensive online help.
Capture actual position, optimal position, following error, and torque
Plot, print, and save results
Easy-to-use slide controls for PID settings
Built-in support for gantry systems
Capture and display of stepper motor auxilary encoder position
Windows 10/8/7/Vista/XP/2000/NT
The Servo Tuning program is installed as a component of Motion Integrator. Recent enhancements include plotting of the following error, improved PID slide control scaling, color printouts, DAC output plotting (MultiFlex family, DCX-MC300 & DCX-MC320), and saving output data to a comma separated value file.