Motion CD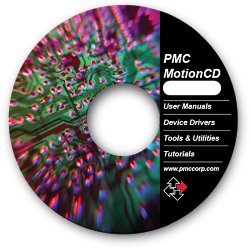 PMC's Motion CD is a hard-copy source for all software, documentation and support resources for PMC Motion Control Cards. The Motion CD's easy-to-use menu system provides immediate access to over 200MB of content, including:
All PMC software and OS drivers
OS drivers for all of PMC's motion control cards
Schematics and wiring information
Tech Notes, tutorials and other reference information
Utility programs and other software tools
Note: Our Motion CD is shipped free with all first-time orders of our motion control cards. Additional copies of the Motion CD are available for a nominal shipping and handling charge of $25.00.
Note: All of the software, documentation and support resources available on the Motion CD are also conveniently available for download from our web site 24 hours a day.