Support / TechNOTES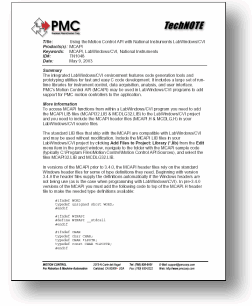 TechNOTES are concise technical support documents that provide clarification, additional information, corrective action or tips about a specific technical issue or topic related to our motion controllers.
Use the links below to sort the TechNOTES by product, subject or date.
The Adobe Acrobat® Reader is required to view PDF documents and may be downloaded for free from the Adobe web site.
Sorted by Product
MultiFlex PCI Series
TN1085
(PDF 145KB): MultiFlex Spiral Motion Path Generation (Aug 16, 2013)
TN1080
(PDF 65KB): Position Following Error Fault Delay on MultiFlex Motion Controllers (Jan 16, 2012)
TN1079
(PDF 224KB): 3-Axis Curvilinear Motion using MultiFlex Motion Controllers (Jan 13, 2012)
TN1078
(PDF 33KB): Using Master/Slave Mode with MultiFlex Motion Controllers (Oct 27, 2010)
TN1077
(PDF 34KB): MultiFlex MCCL Macro Execution w/User-Defined Default Axes (Oct 6, 2010)
TN1069a
(PDF 167KB): Motion Trajectory Generation with MultiFlex Motion Controllers (Nov 11, 2008)
TN1066
(PDF 60KB): High-Speed Strobe/Camera Triggering with MultiFlex Motion Controllers (Jan 11, 2008)
TN1064
(PDF 70KB): Programming Support for the .NET Platform on Windows (May 4, 2005)
TN1063
(PDF 72KB): Using the Event Log to Diagnose MCAPI Startup Problems (May 4, 2005)
TN1062a
(PDF 34KB): Motion Control API Version 2.23 and Windows XP (November 10, 2005)
TN1061
(PDF 37KB): Homing a Gantry (August 2, 2005)
TN1060
(PDF 48KB): Gantry System Basics (August 2, 2005)
TN1058
(PDF 38KB): User Units (Scaling) - Configuring and Programming (November 4, 2004)
TN1057
(PDF 37KB): MultiFlex Breakout Connectors (Aug. 5, 2004)
TN1056
(PDF 35KB): Incorporating a PMC Installation into a Custom Install (July 23, 2004)
TN1055
(PDF 35KB): Verifying MultiFlex PCI 1000 Series Hardware Initialization (May 5, 2004)
TN1054
(PDF 44KB): Registry Keys Used for Ram-Based Firmware (Apr. 27, 2004)
TN1053
(PDF 135KB): Multiple "Insert Disk" Prompts During Windows 98 Install (Mar 3, 2004)
TN1052
(PDF 120KB): Migrating to MCAPI 3.4.1 or Later on Windows 98/Me (Nov 20, 2003)
TN1051
(PDF 113KB): LabVIEW Motion VI Library Sample Motor Settings (July 31, 2003)
TN1048
(PDF 31KB): Using the Motion Control API with National Instruments LabWindows (May 9, 2003)
TN1046
(PDF 41KB): +3.3 Volt Requirement for MultiFlex PCI 1000 Series Motion Controllers (Mar. 12, 2003)
TN1043
(PDF 30KB): Unable to Open Controller: Driver Is Out of Handles (June 24, 2002)
TN1042
(PDF 41KB): Re-Enabling Plug-and-Play (May. 30, 2002)
TN1041
(PDF 30KB): Using Windows' System Information Tool for Trouble-Shooting (May. 30, 2002)
TN1040
(PDF 41KB): Installing the Motion VI Library 2.0a with LabVIEW 6.x (Apr. 2, 2002)
TN1039
(PDF 143KB): Velocity Feed Forward and Torque Mode Amplifiers (Dec. 3, 2001)
TN1036
(PDF 37KB): Command Interpreter Status Bits (June 20, 2001)
TN1035
(PDF 26KB): Record Alignment in Delphi 5.0 (June 12, 2001)
TN1031
(PDF 32KB): Velocity profiles - Trapezoidal versus S-curve (Aug. 25, 2000)
TN1030
(PDF 40KB): Where Have All the Floppies Gone... (Apr. 27, 2000)
TN1029
(PDF 29KB): Using Output Text Commands with the Windows WinControl Utility (June 20, 1999)
TN1027
(PDF 52KB): Accessing Analog Input Channels from LabVIEW Controller (Apr. 19, 1999)
TN1025
(PDF 35KB): Interfacing to MCCL Macros from Windows Programs (Apr. 9, 1999)
TN1024
(PDF 29KB): Outputting ASCII text messages (Mar. 23, 1999)
TN1023
(PDF 30KB): Industrial Joystick Manufacturers (Mar. 9, 1999)
TN1021
(PDF 28KB): Motion Control API 2.0 Programs Refuse to Load (Jan. 13, 1999)
TN1014
(PDF 32KB): LabVIEW MCWaitForStop VI Fails to Wait for Motor Stop (Aug. 24, 1998)
TN1013
(PDF 30KB): Porting Legacy MS-DOS Motion Applications to Windows NT (Aug. 18, 1998)
TN1012
(PDF 32KB): Stepper Motor Moves in One Direction Only (Aug. 18, 1998)
TN1011
(PDF 27KB): Linking Borland C/C++ Projects with MCAPI 2.0 (Aug. 17, 1998)
TN1010
(PDF 37KB): Installing PC Joystick Drivers in Windows NT (Aug. 17, 1998)
TN1007
(PDF 45KB): How To Use Syntax Highlighting with Microsoft's Developer Studio (July 29, 1998)
TN1006
(PDF 26KB): Accessing the Motion Control API from FoxPro (July 23, 1998)
TN1004
(PDF 29KB): Using MCDecodeStatus() to Decode Controller Status Words (June 30, 1998)

MultiFlex Ethernet Series
TN1085
(PDF 145KB): MultiFlex Spiral Motion Path Generation (Aug 16, 2013)
TN1083
(PDF 51KB): MultiFlex ETH 1000 Series G-Code Processing (Feb 2, 2013)
TN1082
(PDF 154KB): MultiFlex ETH 1000 Series IIR Filter Designer (Jan 20, 2012)
TN1081
(PDF 51KB): MultiFlex ETH 1000 Series Network Discovery Tool (Jan 18, 2012)
TN1080
(PDF 65KB): Position Following Error Fault Delay on MultiFlex Motion Controllers (Jan 16, 2012)
TN1079
(PDF 224KB): 3-Axis Curvilinear Motion using MultiFlex Motion Controllers (Jan 13, 2012)
TN1078
(PDF 33KB): Using Master/Slave Mode with MultiFlex Motion Controllers (Oct 27, 2010)
TN1077
(PDF 34KB): MultiFlex MCCL Macro Execution w/User-Defined Default Axes (Oct 6, 2010)
TN1076
(PDF 144KB): MultiFlex ETH 1000 Series Digital I/O Configuration Panel (May 14, 2010)
TN1075
(PDF 142KB): MultiFlex ETH 1000 Series FTP File Transfer Support Utilities (Feb 16, 2010)
TN1074
(PDF 547KB): MultiFlex ETH 1000 Series Configuration and Update Management (Feb 3, 2009)
TN1073
(PDF 67KB): MultiFlex ETH 1000 Series Stand-Alone Operation (Feb 3, 2009)
TN1072
(PDF 95KB): MultiFlex ETH 1000 Series Analog Joystick & Jog Mode Support (Feb 2, 2009)
TN1071
(PDF 46KB): MultiFlex ETH 1000 Series High-Speed Data Broadcasts (Dec 22, 2008)
TN1070a
(PDF 224KB): MultiFlex ETH 1000 Series Brushless/Linear AC Motor Commutation (Nov 12, 2008)
TN1069a
(PDF 167KB): Motion Trajectory Generation with MultiFlex Motion Controllers (Nov 11, 2008)
TN1068
(PDF 112KB): Monitoring MultiFlex ETH 1000 Series Ethernet Communication Traffic (Oct 16, 2008)
TN1067
(PDF 50KB): Using Windows TCP/IP Routing to Connect Networks (Oct 16, 2008)
TN1066
(PDF 60KB): High-Speed Strobe/Camera Triggering with MultiFlex Motion Controllers (Jan 11, 2008)
TN1065
(PDF 120KB): MultiFlex ETH 1000 Series DC Power Supply Requirements (Dec, 18, 2007)
TN1064
(PDF 70KB): Programming Support for the .NET Platform on Windows (May 4, 2005)
TN1063
(PDF 72KB): Using the Event Log to Diagnose MCAPI Startup Problems (May 4, 2005)
TN1062a
(PDF 34KB): Motion Control API Version 2.23 and Windows XP (November 10, 2005)
TN1061
(PDF 37KB): Homing a Gantry (August 2, 2005)
TN1060
(PDF 48KB): Gantry System Basics (August 2, 2005)
TN1058
(PDF 38KB): User Units (Scaling) - Configuring and Programming (November 4, 2004)
TN1057
(PDF 37KB): MultiFlex Breakout Connectors (Aug. 5, 2004)
TN1056
(PDF 35KB): Incorporating a PMC Installation into a Custom Install (July 23, 2004)
TN1055
(PDF 35KB): Verifying MultiFlex PCI 1000 Series Hardware Initialization (May 5, 2004)
TN1054
(PDF 44KB): Registry Keys Used for Ram-Based Firmware (Apr. 27, 2004)
TN1053
(PDF 135KB): Multiple "Insert Disk" Prompts During Windows 98 Install (Mar 3, 2004)
TN1052
(PDF 120KB): Migrating to MCAPI 3.4.1 or Later on Windows 98/Me (Nov 20, 2003)
TN1051
(PDF 113KB): LabVIEW Motion VI Library Sample Motor Settings (July 31, 2003)
TN1048
(PDF 31KB): Using the Motion Control API with National Instruments LabWindows (May 9, 2003)
TN1046
(PDF 41KB): +3.3 Volt Requirement for MultiFlex PCI 1000 Series Motion Controllers (Mar. 12, 2003)
TN1043
(PDF 30KB): Unable to Open Controller: Driver Is Out of Handles (June 24, 2002)
TN1042
(PDF 41KB): Re-Enabling Plug-and-Play (May. 30, 2002)
TN1041
(PDF 30KB): Using Windows' System Information Tool for Trouble-Shooting (May. 30, 2002)
TN1040
(PDF 41KB): Installing the Motion VI Library 2.0a with LabVIEW 6.x (Apr. 2, 2002)
TN1039
(PDF 143KB): Velocity Feed Forward and Torque Mode Amplifiers (Dec. 3, 2001)
TN1036
(PDF 37KB): Command Interpreter Status Bits (June 20, 2001)
TN1035
(PDF 26KB): Record Alignment in Delphi 5.0 (June 12, 2001)
TN1031
(PDF 32KB): Velocity profiles - Trapezoidal versus S-curve (Aug. 25, 2000)
TN1030
(PDF 40KB): Where Have All the Floppies Gone... (Apr. 27, 2000)
TN1029
(PDF 29KB): Using Output Text Commands with the Windows WinControl Utility (June 20, 1999)
TN1027
(PDF 52KB): Accessing Analog Input Channels from LabVIEW Controller (Apr. 19, 1999)
TN1025
(PDF 35KB): Interfacing to MCCL Macros from Windows Programs (Apr. 9, 1999)
TN1024
(PDF 29KB): Outputting ASCII text messages (Mar. 23, 1999)
TN1023
(PDF 30KB): Industrial Joystick Manufacturers (Mar. 9, 1999)
TN1021
(PDF 28KB): Motion Control API 2.0 Programs Refuse to Load (Jan. 13, 1999)
TN1014
(PDF 32KB): LabVIEW MCWaitForStop VI Fails to Wait for Motor Stop (Aug. 24, 1998)
TN1013
(PDF 30KB): Porting Legacy MS-DOS Motion Applications to Windows NT (Aug. 18, 1998)
TN1012
(PDF 32KB): Stepper Motor Moves in One Direction Only (Aug. 18, 1998)
TN1011
(PDF 27KB): Linking Borland C/C++ Projects with MCAPI 2.0 (Aug. 17, 1998)
TN1010
(PDF 37KB): Installing PC Joystick Drivers in Windows NT (Aug. 17, 1998)
TN1007
(PDF 45KB): How To Use Syntax Highlighting with Microsoft's Developer Studio (July 29, 1998)
TN1006
(PDF 26KB): Accessing the Motion Control API from FoxPro (July 23, 1998)
TN1004
(PDF 29KB): Using MCDecodeStatus() to Decode Controller Status Words (June 30, 1998)

DCX PCI Series
DCX-PCI300
TN1064
(PDF 70KB): Programming Support for the .NET Platform on Windows (May 4, 2005)
TN1063
(PDF 72KB): Using the Event Log to Diagnose MCAPI Startup Problems (May 4, 2005)
TN1062a
(PDF 34KB): Motion Control API Version 2.23 and Windows XP (November 10, 2005)
TN1061
(PDF 37KB): Homing a Gantry (August 2, 2005)
TN1060
(PDF 48KB): Gantry System Basics (August 2, 2005)
TN1058
(PDF 38KB): User Units (Scaling) - Configuring and Programming (November 4, 2004)
TN1056
(PDF 35KB): Incorporating a PMC Installation into a Custom Install (July 23, 2004)
TN1054
(PDF 44KB): Registry Keys Used for Ram-Based Firmware (Apr. 27, 2004)
TN1053
(PDF 135KB): Multiple "Insert Disk" Prompts During Windows 98 Install (Mar 3, 2004)
TN1052
(PDF 120KB): Migrating to MCAPI 3.4.1 or Later on Windows 98/Me (Nov 20, 2003)
TN1051
(PDF 113KB): LabVIEW Motion VI Library Sample Motor Settings (July 31, 2003)
TN1049
(PDF 32KB): Legacy ISA motion controller installation for Windows XP\2000\98 (May 21, 2003)
TN1048
(PDF 31KB): Using the Motion Control API with National Instruments LabWindows (May 9, 2003)
TN1044
(PDF 31KB): Memory Shadowing Conflicts with ISA-Bus Controllers (June 24, 2002)
TN1043
(PDF 30KB): Unable to Open Controller: Driver Is Out of Handles (June 24, 2002)
TN1042
(PDF 41KB): Re-Enabling Plug-and-Play (May. 30, 2002)
TN1041
(PDF 30KB): Using Windows' System Information Tool for Trouble-Shooting (May. 30, 2002)
TN1040
(PDF 41KB): Installing the Motion VI Library 2.0a with LabVIEW 6.x (Apr. 2, 2002)
TN1039
(PDF 143KB): Velocity Feed Forward and Torque Mode Amplifiers (Dec. 3, 2001)
TN1038
(PDF 29KB): DCX-PCI300H high density connector usage (Oct. 30, 2001)
TN1035
(PDF 26KB): Record Alignment in Delphi 5.0 (June 12, 2001)
TN1033
(PDF 30KB): MCAPI.INI settings - Converting from a DCX-AT300 to a DCX-PCI300 (May 4, 2001)
TN1032
(PDF 31KB): Memory conflicts - excluding DCX memory from available PC resources (Oct. 6, 2000)
TN1030
(PDF 40KB): Where Have All the Floppies Gone... (Apr. 27, 2000)
TN1029
(PDF 29KB): Using Output Text Commands with the Windows WinControl Utility (June 20, 1999)
TN1027
(PDF 52KB): Accessing Analog Input Channels from LabVIEW Controller (Apr. 19, 1999)
TN1025
(PDF 35KB): Interfacing to MCCL Macros from Windows Programs (Apr. 9, 1999)
TN1024
(PDF 29KB): Outputting ASCII text messages (Mar. 23, 1999)
TN1023
(PDF 30KB): Industrial Joystick Manufacturers (Mar. 9, 1999)
TN1021
(PDF 28KB): Motion Control API 2.0 Programs Refuse to Load (Jan. 13, 1999)
TN1016
(PDF 30KB): IEEE 488 Communications with the National Instruments GPIB Adapter (Sept. 9, 1998)
TN1015
(PDF 27KB): Year 2000 Compliance (Y2K) of PMC Products and Software (Aug. 25, 1998)
TN1014
(PDF 32KB): LabVIEW MCWaitForStop VI Fails to Wait for Motor Stop (Aug. 24, 1998)
TN1013
(PDF 30KB): Porting Legacy MS-DOS Motion Applications to Windows NT (Aug. 18, 1998)
TN1012
(PDF 32KB): Stepper Motor Moves in One Direction Only (Aug. 18, 1998)
TN1011
(PDF 27KB): Linking Borland C/C++ Projects with MCAPI 2.0 (Aug. 17, 1998)
TN1010
(PDF 37KB): Installing PC Joystick Drivers in Windows NT (Aug. 17, 1998)
TN1007
(PDF 45KB): How To Use Syntax Highlighting with Microsoft's Developer Studio (July 29, 1998)
TN1006
(PDF 26KB): Accessing the Motion Control API from FoxPro (July 23, 1998)
TN1004
(PDF 29KB): Using MCDecodeStatus() to Decode Controller Status Words (June 30, 1998)

DCX-PCI100
TN1064
(PDF 70KB): Programming Support for the .NET Platform on Windows (May 4, 2005)
TN1063
(PDF 72KB): Using the Event Log to Diagnose MCAPI Startup Problems (May 4, 2005)
TN1062a
(PDF 34KB): Motion Control API Version 2.23 and Windows XP (November 10, 2005)
TN1059
(PDF 158KB): DCX-PCI100 Controller Initialization (November 4, 2004)
TN1058
(PDF 38KB): User Units (Scaling) - Configuring and Programming (November 4, 2004)
TN1056
(PDF 35KB): Incorporating a PMC Installation into a Custom Install (July 23, 2004)
TN1054
(PDF 44KB): Registry Keys Used for Ram-Based Firmware (Apr. 27, 2004)
TN1053
(PDF 135KB): Multiple "Insert Disk" Prompts During Windows 98 Install (Mar 3, 2004)
TN1052
(PDF 120KB): Migrating to MCAPI 3.4.1 or Later on Windows 98/Me (Nov 20, 2003)
TN1051
(PDF 113KB): LabVIEW Motion VI Library Sample Motor Settings (July 31, 2003)
TN1050
(PDF 41KB): Migrating MC110 servo applications to the PCI bus (June 13, 2003)
TN1049
(PDF 32KB): Legacy ISA motion controller installation for Windows XP\2000\98 (May 21, 2003)
TN1048
(PDF 31KB): Using the Motion Control API with National Instruments LabWindows (May 9, 2003)
TN1047
(PDF 25KB): Data Acquisition with the DCX-PCI100 and DCX-MC500 (Mar. 18, 2003)
TN1045
(PDF 30KB): Default Settings for Thorlabs Motorized Actuators (Jan. 2, 2003)
TN1044
(PDF 31KB): Memory Shadowing Conflicts with ISA-Bus Controllers (June 24, 2002)
TN1043
(PDF 30KB): Unable to Open Controller: Driver Is Out of Handles (June 24, 2002)
TN1042
(PDF 41KB): Re-Enabling Plug-and-Play (May. 30, 2002)
TN1041
(PDF 30KB): Using Windows' System Information Tool for Trouble-Shooting (May. 30, 2002)
TN1040
(PDF 41KB): Installing the Motion VI Library 2.0a with LabVIEW 6.x (Apr. 2, 2002)
TN1037a: Converting from DCX-PC100 (ISA) to DCX-PCI100 (PCI) (see TN1050) (Sep. 21, 2001)
TN1035
(PDF 26KB): Record Alignment in Delphi 5.0 (June 12, 2001)
TN1034
(PDF 30KB): Default settings for Ealing Encoder Drivers (June 8, 2001)
TN1032
(PDF 31KB): Memory conflicts - excluding DCX memory from available PC resources (Oct. 6, 2000)
TN1030
(PDF 40KB): Where Have All the Floppies Gone... (Apr. 27, 2000)
TN1029
(PDF 29KB): Using Output Text Commands with the Windows WinControl Utility (June 20, 1999)
TN1028
(PDF 27KB): Velocity Mode motion and the DCX-MC100 and DCX-MC110 (June 9, 1999)
TN1027
(PDF 52KB): Accessing Analog Input Channels from LabVIEW Controller (Apr. 19, 1999)
TN1025
(PDF 35KB): Interfacing to MCCL Macros from Windows Programs (Apr. 9, 1999)
TN1024
(PDF 29KB): Outputting ASCII text messages (Mar. 23, 1999)
TN1023
(PDF 30KB): Industrial Joystick Manufacturers (Mar. 9, 1999)
TN1022
(PDF 31KB): DCX-MC110 modifications for 24V motors (Feb. 23, 1999)
TN1021
(PDF 28KB): Motion Control API 2.0 Programs Refuse to Load (Jan. 13, 1999)
TN1016
(PDF 30KB): IEEE 488 Communications with the National Instruments GPIB Adapter (Sept. 9, 1998)
TN1015
(PDF 27KB): Year 2000 Compliance (Y2K) of PMC Products and Software (Aug. 25, 1998)
TN1014
(PDF 32KB): LabVIEW MCWaitForStop VI Fails to Wait for Motor Stop (Aug. 24, 1998)
TN1013
(PDF 30KB): Porting Legacy MS-DOS Motion Applications to Windows NT (Aug. 18, 1998)
TN1012
(PDF 32KB): Stepper Motor Moves in One Direction Only (Aug. 18, 1998)
TN1011
(PDF 27KB): Linking Borland C/C++ Projects with MCAPI 2.0 (Aug. 17, 1998)
TN1010
(PDF 37KB): Installing PC Joystick Drivers in Windows NT (Aug. 17, 1998)
TN1009
(PDF 31KB): DCX-MC110 / DCX-MC210 Wiring for Oriel Encoder Mikes (Aug. 6, 1998)
TN1008
(PDF 27KB): DCX-MC110 / DCX-MC210 Wiring for Ealing Encoder Drivers (Aug. 6, 1998)
TN1007
(PDF 45KB): How To Use Syntax Highlighting with Microsoft's Developer Studio (July 29, 1998)
TN1006
(PDF 26KB): Accessing the Motion Control API from FoxPro (July 23, 1998)
TN1004
(PDF 29KB): Using MCDecodeStatus() to Decode Controller Status Words (June 30, 1998)

Legacy Products
DCX-AT
TN1064
(PDF 70KB): Programming Support for the .NET Platform on Windows (May 4, 2005)
TN1063
(PDF 72KB): Using the Event Log to Diagnose MCAPI Startup Problems (May 4, 2005)
TN1062a
(PDF 34KB): Motion Control API Version 2.23 and Windows XP (November 10, 2005)
TN1058
(PDF 38KB): User Units (Scaling) - Configuring and Programming (November 4, 2004)
TN1056
(PDF 35KB): Incorporating a PMC Installation into a Custom Install (July 23, 2004)
TN1053
(PDF 135KB): Multiple "Insert Disk" Prompts During Windows 98 Install (Mar 3, 2004)
TN1052
(PDF 120KB): Migrating to MCAPI 3.4.1 or Later on Windows 98/Me (Nov 20, 2003)
TN1051
(PDF 113KB): LabVIEW Motion VI Library Sample Motor Settings (July 31, 2003)
TN1049
(PDF 32KB): Legacy ISA motion controller installation for Windows XP\2000\98 (May 21, 2003)
TN1048
(PDF 31KB): Using the Motion Control API with National Instruments LabWindows (May 9, 2003)
TN1044
(PDF 31KB): Memory Shadowing Conflicts with ISA-Bus Controllers (June 24, 2002)
TN1043
(PDF 30KB): Unable to Open Controller: Driver Is Out of Handles (June 24, 2002)
TN1041
(PDF 30KB): Using Windows' System Information Tool for Trouble-Shooting (May. 30, 2002)
TN1040
(PDF 41KB): Installing the Motion VI Library 2.0a with LabVIEW 6.x (Apr. 2, 2002)
TN1039
(PDF 143KB): Velocity Feed Forward and Torque Mode Amplifiers (Dec. 3, 2001)
TN1036
(PDF 37KB): Command Interpreter Status Bits (June 20, 2001)
TN1035
(PDF 26KB): Record Alignment in Delphi 5.0 (June 12, 2001)
TN1033
(PDF 30KB): MCAPI.INI settings - Converting from a DCX-AT300 to a DCX-PCI300 (May 4, 2001)
TN1032
(PDF 31KB): Memory conflicts - excluding DCX memory from available PC resources (Oct. 6, 2000)
TN1031
(PDF 32KB): Velocity profiles - Trapezoidal versus S-curve (Aug. 25, 2000)
TN1030
(PDF 40KB): Where Have All the Floppies Gone... (Apr. 27, 2000)
TN1029
(PDF 29KB): Using Output Text Commands with the Windows WinControl Utility (June 20, 1999)
TN1027
(PDF 52KB): Accessing Analog Input Channels from LabVIEW Controller (Apr. 19, 1999)
TN1025
(PDF 35KB): Interfacing to MCCL Macros from Windows Programs (Apr. 9, 1999)
TN1024
(PDF 29KB): Outputting ASCII text messages (Mar. 23, 1999)
TN1023
(PDF 30KB): Industrial Joystick Manufacturers (Mar. 9, 1999)
TN1021
(PDF 28KB): Motion Control API 2.0 Programs Refuse to Load (Jan. 13, 1999)
TN1017
(PDF 28KB): Extra pulse counter on DCX-AT200 motherboard (Sept. 24, 1998)
TN1016
(PDF 30KB): IEEE 488 Communications with the National Instruments GPIB Adapter (Sept. 9, 1998)
TN1015
(PDF 27KB): Year 2000 Compliance (Y2K) of PMC Products and Software (Aug. 25, 1998)
TN1014
(PDF 32KB): LabVIEW MCWaitForStop VI Fails to Wait for Motor Stop (Aug. 24, 1998)
TN1013
(PDF 30KB): Porting Legacy MS-DOS Motion Applications to Windows NT (Aug. 18, 1998)
TN1012
(PDF 32KB): Stepper Motor Moves in One Direction Only (Aug. 18, 1998)
TN1011
(PDF 27KB): Linking Borland C/C++ Projects with MCAPI 2.0 (Aug. 17, 1998)
TN1010
(PDF 37KB): Installing PC Joystick Drivers in Windows NT (Aug. 17, 1998)
TN1007
(PDF 45KB): How To Use Syntax Highlighting with Microsoft's Developer Studio (July 29, 1998)
TN1006
(PDF 26KB): Accessing the Motion Control API from FoxPro (July 23, 1998)
TN1005
(PDF 26KB): Maximum period for wait commands on DCX-AT200 (June 30, 1998)
TN1004
(PDF 29KB): Using MCDecodeStatus() to Decode Controller Status Words (June 30, 1998)

DCX-PC
TN1064
(PDF 70KB): Programming Support for the .NET Platform on Windows (May 4, 2005)
TN1063
(PDF 72KB): Using the Event Log to Diagnose MCAPI Startup Problems (May 4, 2005)
TN1062a
(PDF 34KB): Motion Control API Version 2.23 and Windows XP (November 10, 2005)
TN1061
(PDF 37KB): Homing a Gantry (August 2, 2005)
TN1060
(PDF 48KB): Gantry System Basics (August 2, 2005)
TN1059
(PDF 158KB): DCX-PCI100 Controller Initialization (November 4, 2004)
TN1058
(PDF 38KB): User Units (Scaling) - Configuring and Programming (November 4, 2004)
TN1056
(PDF 35KB): Incorporating a PMC Installation into a Custom Install (July 23, 2004)
TN1054
(PDF 44KB): Registry Keys Used for Ram-Based Firmware (Apr. 27, 2004)
TN1053
(PDF 135KB): Multiple "Insert Disk" Prompts During Windows 98 Install (Mar 3, 2004)
TN1052
(PDF 120KB): Migrating to MCAPI 3.4.1 or Later on Windows 98/Me (Nov 20, 2003)
TN1051
(PDF 113KB): LabVIEW Motion VI Library Sample Motor Settings (July 31, 2003)
TN1050
(PDF 41KB): Migrating MC110 servo applications to the PCI bus (June 13, 2003)
TN1049
(PDF 32KB): Legacy ISA motion controller installation for Windows XP\2000\98 (May 21, 2003)
TN1048
(PDF 31KB): Using the Motion Control API with National Instruments LabWindows (May 9, 2003)
TN1047
(PDF 25KB): Data Acquisition with the DCX-PCI100 and DCX-MC500 (Mar. 18, 2003)
TN1045
(PDF 30KB): Default Settings for Thorlabs Motorized Actuators (Jan. 2, 2003)
TN1044
(PDF 31KB): Memory Shadowing Conflicts with ISA-Bus Controllers (June 24, 2002)
TN1043
(PDF 30KB): Unable to Open Controller: Driver Is Out of Handles (June 24, 2002)
TN1042
(PDF 41KB): Re-Enabling Plug-and-Play (May. 30, 2002)
TN1041
(PDF 30KB): Using Windows' System Information Tool for Trouble-Shooting (May. 30, 2002)
TN1040
(PDF 41KB): Installing the Motion VI Library 2.0a with LabVIEW 6.x (Apr. 2, 2002)
TN1039
(PDF 143KB): Velocity Feed Forward and Torque Mode Amplifiers (Dec. 3, 2001)
TN1038
(PDF 29KB): DCX-PCI300H high density connector usage (Oct. 30, 2001)
TN1037a: Converting from DCX-PC100 (ISA) to DCX-PCI100 (PCI) (see TN1050) (Sep. 21, 2001)
TN1035
(PDF 26KB): Record Alignment in Delphi 5.0 (June 12, 2001)
TN1034
(PDF 30KB): Default settings for Ealing Encoder Drivers (June 8, 2001)
TN1033
(PDF 30KB): MCAPI.INI settings - Converting from a DCX-AT300 to a DCX-PCI300 (May 4, 2001)
TN1032
(PDF 31KB): Memory conflicts - excluding DCX memory from available PC resources (Oct. 6, 2000)
TN1030
(PDF 40KB): Where Have All the Floppies Gone... (Apr. 27, 2000)
TN1029
(PDF 29KB): Using Output Text Commands with the Windows WinControl Utility (June 20, 1999)
TN1028
(PDF 27KB): Velocity Mode motion and the DCX-MC100 and DCX-MC110 (June 9, 1999)
TN1027
(PDF 52KB): Accessing Analog Input Channels from LabVIEW Controller (Apr. 19, 1999)
TN1025
(PDF 35KB): Interfacing to MCCL Macros from Windows Programs (Apr. 9, 1999)
TN1024
(PDF 29KB): Outputting ASCII text messages (Mar. 23, 1999)
TN1023
(PDF 30KB): Industrial Joystick Manufacturers (Mar. 9, 1999)
TN1022
(PDF 31KB): DCX-MC110 modifications for 24V motors (Feb. 23, 1999)
TN1021
(PDF 28KB): Motion Control API 2.0 Programs Refuse to Load (Jan. 13, 1999)
TN1016
(PDF 30KB): IEEE 488 Communications with the National Instruments GPIB Adapter (Sept. 9, 1998)
TN1015
(PDF 27KB): Year 2000 Compliance (Y2K) of PMC Products and Software (Aug. 25, 1998)
TN1014
(PDF 32KB): LabVIEW MCWaitForStop VI Fails to Wait for Motor Stop (Aug. 24, 1998)
TN1013
(PDF 30KB): Porting Legacy MS-DOS Motion Applications to Windows NT (Aug. 18, 1998)
TN1012
(PDF 32KB): Stepper Motor Moves in One Direction Only (Aug. 18, 1998)
TN1011
(PDF 27KB): Linking Borland C/C++ Projects with MCAPI 2.0 (Aug. 17, 1998)
TN1010
(PDF 37KB): Installing PC Joystick Drivers in Windows NT (Aug. 17, 1998)
TN1009
(PDF 31KB): DCX-MC110 / DCX-MC210 Wiring for Oriel Encoder Mikes (Aug. 6, 1998)
TN1008
(PDF 27KB): DCX-MC110 / DCX-MC210 Wiring for Ealing Encoder Drivers (Aug. 6, 1998)
TN1007
(PDF 45KB): How To Use Syntax Highlighting with Microsoft's Developer Studio (July 29, 1998)
TN1006
(PDF 26KB): Accessing the Motion Control API from FoxPro (July 23, 1998)
TN1004
(PDF 29KB): Using MCDecodeStatus() to Decode Controller Status Words (June 30, 1998)

DC2-PC
TN1064
(PDF 70KB): Programming Support for the .NET Platform on Windows (May 4, 2005)
TN1063
(PDF 72KB): Using the Event Log to Diagnose MCAPI Startup Problems (May 4, 2005)
TN1062a
(PDF 34KB): Motion Control API Version 2.23 and Windows XP (November 10, 2005)
TN1058
(PDF 38KB): User Units (Scaling) - Configuring and Programming (November 4, 2004)
TN1056
(PDF 35KB): Incorporating a PMC Installation into a Custom Install (July 23, 2004)
TN1053
(PDF 135KB): Multiple "Insert Disk" Prompts During Windows 98 Install (Mar 3, 2004)
TN1052
(PDF 120KB): Migrating to MCAPI 3.4.1 or Later on Windows 98/Me (Nov 20, 2003)
TN1051
(PDF 113KB): LabVIEW Motion VI Library Sample Motor Settings (July 31, 2003)
TN1049
(PDF 32KB): Legacy ISA motion controller installation for Windows XP\2000\98 (May 21, 2003)
TN1048
(PDF 31KB): Using the Motion Control API with National Instruments LabWindows (May 9, 2003)
TN1043
(PDF 30KB): Unable to Open Controller: Driver Is Out of Handles (June 24, 2002)
TN1041
(PDF 30KB): Using Windows' System Information Tool for Trouble-Shooting (May. 30, 2002)
TN1040
(PDF 41KB): Installing the Motion VI Library 2.0a with LabVIEW 6.x (Apr. 2, 2002)
TN1035
(PDF 26KB): Record Alignment in Delphi 5.0 (June 12, 2001)
TN1030
(PDF 40KB): Where Have All the Floppies Gone... (Apr. 27, 2000)
TN1027
(PDF 52KB): Accessing Analog Input Channels from LabVIEW Controller (Apr. 19, 1999)
TN1026
(PDF 33KB): Programming a Trajectory Profile for the DC2-PC Motion Controller (Apr. 15, 1999)
TN1025
(PDF 35KB): Interfacing to MCCL Macros from Windows Programs (Apr. 9, 1999)
TN1023
(PDF 30KB): Industrial Joystick Manufacturers (Mar. 9, 1999)
TN1021
(PDF 28KB): Motion Control API 2.0 Programs Refuse to Load (Jan. 13, 1999)
TN1019
(PDF 26KB): Using MCAPI for Linear Contouring on the DC2-PC / DC2-STN (Dec. 30, 1998)
TN1015
(PDF 27KB): Year 2000 Compliance (Y2K) of PMC Products and Software (Aug. 25, 1998)
TN1014
(PDF 32KB): LabVIEW MCWaitForStop VI Fails to Wait for Motor Stop (Aug. 24, 1998)
TN1013
(PDF 30KB): Porting Legacy MS-DOS Motion Applications to Windows NT (Aug. 18, 1998)
TN1011
(PDF 27KB): Linking Borland C/C++ Projects with MCAPI 2.0 (Aug. 17, 1998)
TN1010
(PDF 37KB): Installing PC Joystick Drivers in Windows NT (Aug. 17, 1998)
TN1007
(PDF 45KB): How To Use Syntax Highlighting with Microsoft's Developer Studio (July 29, 1998)
TN1006
(PDF 26KB): Accessing the Motion Control API from FoxPro (July 23, 1998)
TN1004
(PDF 29KB): Using MCDecodeStatus() to Decode Controller Status Words (June 30, 1998)
TN1003
(PDF 27KB): Configuring DC2-PC / DC2-STN Joystick Operation from Windows (June 24, 1998)
TN1002
(PDF 31KB): DC2-PC Serial Interface Cable for Hardware Handshaking (June 22, 1998)
TN1001
(PDF 42KB): DC2-PC I/O Conflict When Installed in ISA-bus Slot (June 8, 1998)