ADAM-3968 Wiring Terminal Board for MultiFlex Motion Controllers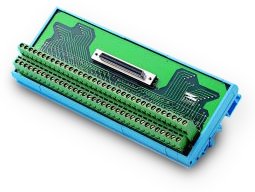 ADAM-3968: 68-conductor interconnection board features an industry-standard HD68 high-density SCSI connector and povides two rows of 34 numbered screw clamp terminals. For use with PMC's MultiFlex family of motion controllers.
Dimensions: 77.5 mm (W) x 213.8 mm (L) x 51 mm (H) (3.1" x 8.4" x 2.0")
Note: One ADAM-3968 interconnection board accommodates up to 2 Axes of I/O.