DC2-PC 100 Series Motion Controller
Note: The DCX-PC 100 series motion controllers are no longer recommended for new applications. If you have a new application that requires servo or stepper control, please see the MultiFlex motion controller family instead.
The DC2-PC series motion control 1 or 2 servo axes via analog ±10V DC servo control signals and can be configured to provide two axes of on-board PWM amplified servo drive signals for small DC servo motors. This can eliminate the need for separate, external power amlifiers to drive the motors. DC2-PC motion control cards do not rely on a PC for any processing functions, so they deliver the same level of performance in stand-alone applications as they do when installed in a PC. Click on the link below for a graphical feature list..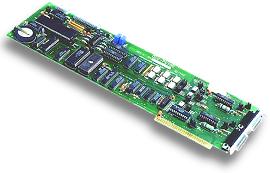 DC2-PC 100 Controller
(click image to enlarge)
Economical 2-axis servo controller and stepper indexer.
Servo control and drive for up to 2 motors
No external power amplifiers needed for small DC servo motors
Optional stand-alone operation via RS-232 communication port
Comprehensive Windows software tools and LabVIEW support
| | | | |
| --- | --- | --- | --- |
| | Major Features and Benefits | | |
| | Economical ISA-bus motion controller | | |
| | 2 axes servo control | | |
| | 2 axes auxiliary stepper indexer | | |
| | Directly-drives up to 2 small DC servo motors (12 Watts/ch) - eliminating the need for external power amplifiers | | |
| | Multi-axis coordinated motion | | |
| | On-board linear interpolation, circular contouring, and continuous path motion | | |
| | Trapezoidal velocity profiles | | |
| | Position, velocity, torque, gain, and joystick control modes | | |
| | 1 KHz PID servo loop with velocity feed-forward | | |
| | 32 bit precision (1 part in 4 billion) | | |
| | Battery backup for on-board storage of user programs | | |
| | Fully programmable in C/C++, Delphi, LabVIEW, Visual Basic and/or easy-to-use command language | | |
| | Drivers for Windows 98/NT/2000/XP/Vista | | |
| | Powerful and flexible software API is compatible with other PMC motion controllers | | |
| | Includes a full suite of Windows installation, tuning, diagnostic and example programs with source code | | |
| | All PMC Software is included at no extra charge | | |