DCX-AT 300 Series Motion Controllers
Note: The DCX-AT 300 series motion controllers are no longer recommended for new applications. If you have a new application that requires servo or stepper control, please see the MultiFlex motion controller family instead.
The DCX-AT300 motion control card features DSP technology and a modular multi-processing architecture first pioneered by PMC more than 30 years ago.
Each DCX-AT300 Series motion controller consists of an intelligent legacy ISA-bus control card populated with any mix of up to six (6) intelligent plug-in function modules. Function modules are available for servo control, stepper control, digital I/O, analog I/O, and optional RS-232/422 or IEEE-488 communications.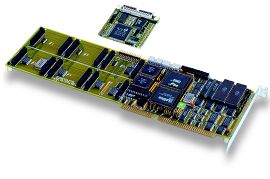 DCX-AT 300 Controller
(click image to enlarge)
High-performance 1-6 axis axis ISA-bus servo and stepper controller
Flexible and powerful modular multi-processor architecture
Digital and analog I/O expansion options
Comprehensive software tools and programming libraries
| | | | |
| --- | --- | --- | --- |
| | Major Features and Benefits | | |
| | High-performance legacy ISA-bus motion controller | | |
| | Advanced RISC, DSP & FPGA technology | | |
| | 1-6 axes servo & stepper control | | |
| | One DSP chip per axis module, guaranteeing fast and reliable multi-axis performance | | |
| | Multi-axis coordinated motion - interpolation, contouring, spline, master/slave, gearing | | |
| | Trapezoidal, S-curve and parabolic velocity profiles for smooth jerk-free motion | | |
| | 8 KHz PID-FF servo loop update rate each axis (6 axes) | | |
| | On-board sinusoidal commutation for smooth and accurate AC brushless servo control | | |
| | 64-bit floating point co-processor for ultra-wide dynamic range | | |
| | 16-bit analog servo command outputs for superior resolution | | |
| | 10 million encoder counts/sec for high-speed/ high-resolution moves | | |
| | 5 MHz pulse outputs for high-speed microstepping | | |
| | Customizable notch filters | | |
| | Open and closed-loop stepper control | | |
| | On-the-fly changes in trajectory, direction and PID values | | |
| | On-board multi-tasking frees host PC for other tasks | | |
| | Consistent real-time behavior: Performance remains as specified no matter which features or axes are enabled | | |
| | Additional digital and analog I/O available via I/O plug-in modules | | |
| | High-speed I/O includes sub-microsecond position capture inputs & compare outputs | | |
| | Fully programmable in C/C++, Delphi, LabVIEW, Visual Basic and/or easy-to-use command language | | |
| | Drivers for Windows 98/NT/2000/XP/Vista | | |
| | Powerful and flexible software API is compatible with other PMC motion controllers | | |
| | Includes a full suite of Windows installation, tuning, diagnostic and example programs with source code | | |
| | All PMC Software is included at no extra charge | | |